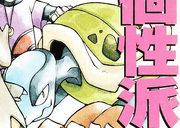 The unnamed turtle was shown on the front cover of volume 14 of the MicroGroup Game Review magazine in 1997, along with another unused Pokémon, an altered Tyranitar and unreleased Trainers.
In an excerpt from a document (p. 53) (possibly the same issue of MicroGroup Game Review)[citation needed] there is a Cover Artist Interview with Ken Sugimori. The designs are also displayed on the excerpt, implying that Ken Sugimori illustrated them.
The turtle has a large green shell and a blue head, with some similarities to the fossil Pokémon Tirtouga in Generation V.
External links
Edit