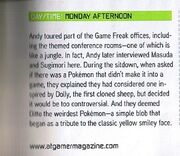 The unnamed sheep was a concept for a Pokémon which was inspired by Dolly; the first cloned sheep. It was briefly mentioned in Issue 6 (January/February 2011) Page 7 of the @Gamer Magazine, where Andy of @Gamer interviewed Junichi Masuda and Ken Sugimori of Game Freak. The Pokémon was rejected, because Game Freak decided it would be too controversial.
There is no known artwork for this unreleased Pokémon (with the exception of the image in the left of the page). It may have been simply a consideration rather than a prototype Pokémon.
Ad blocker interference detected!
Wikia is a free-to-use site that makes money from advertising. We have a modified experience for viewers using ad blockers

Wikia is not accessible if you've made further modifications. Remove the custom ad blocker rule(s) and the page will load as expected.